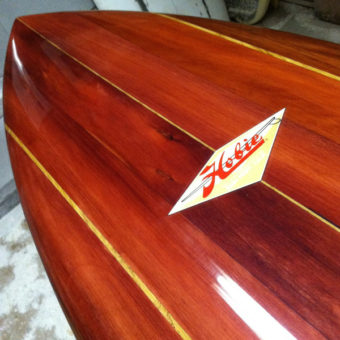 Far West Forest Products recently supplied wood to Josh Martin of MartinShapes for a very special surfboard he built for Hobie Surfboards.   We were honored to provide the wood for his beautiful work of art from California native wood species, California White Oak, and Giant Sequoia Redwood.
The following is an excerpt from His Blog:
Wood is orthotropic – the strength is predominantly along one axis. Parallel to the grain, tensile is very high and compression strength is good. Perfect for a core material in surfboard construction. Particularly surfboards designed for big surf. Wood provides for superior control, a smooth ride and durability. The "cadillac" of surfboard materials.
Far West Forest products provided me with some very special surfboard wood… Sequoiadendron giganteum (giant sequoia) greatest of the redwoods, the earth's largest tree and largest living thing by volume.
To continue reading the rest of his Blog Post follow this link: http://martinshapes.com/blogs/news/18608499-big-trees-in-the-surf