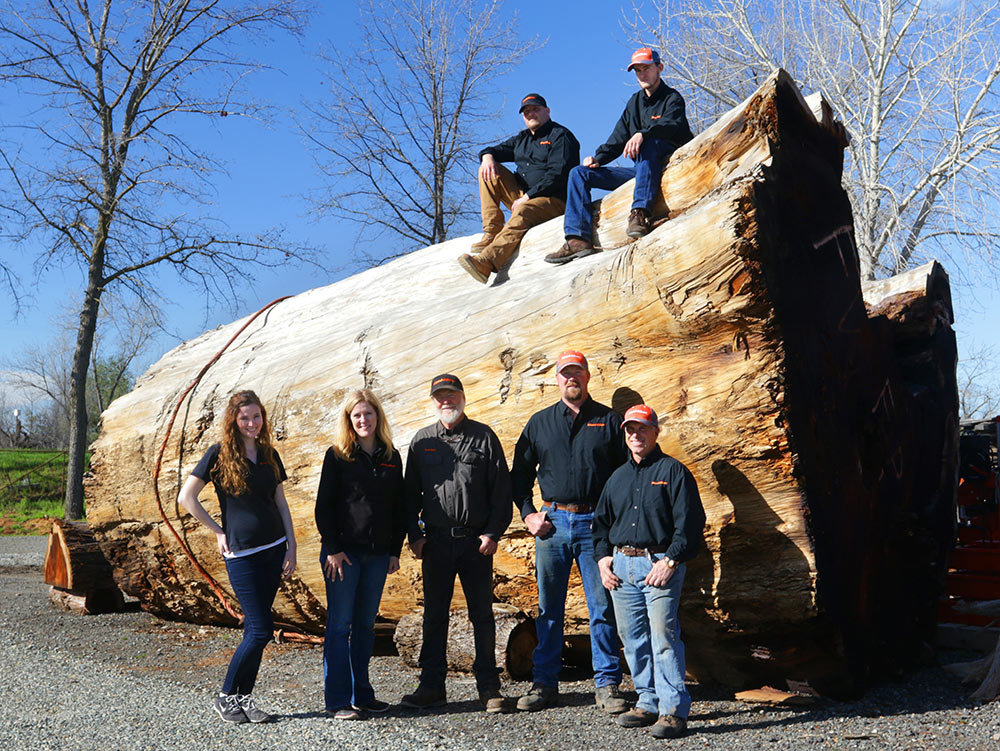 Far West Construction Inc. DBA Far West Forest Products is a family owned and operated Corporation. Today Far West Forest Products works actively to promote the use of our local native species, and over 95% of the lumber we provide comes from within a 500 mile radius of our Sheridan CA location. We specialize in Urban, Salvaged, and Reclaimed lumber and wood products, and are working diligently to make Urban, Salvaged, and Reclaimed materials Go-To Products for every household in America.
We offer
Lumber, live edge slabs, burl rounds, turning blocks, pen blanks, table bases & legs, custom cutting services, portable band saws, saw blades, sharpening services, sawmill service, sawmill tech support, and logging services.
Jim Evans
Jim has been in the timber industry for over 40 years as was his father and grandfather before him, and is a licensed timber operator. He was a contract faller in the summer and a hardwood and burl buyer in the winter. He was a burl buyer for Earl Roberts of Roberts Gunstocks, Inc. of Marysville, California. This gave him the experience he needed to start Far West Forest Products. In the early 80′s Far West began to package firewood under its own label and began distributing it to CA and NV markets, handling everything from the logging, cutting, splitting, packaging and marketing in-house. We would take the higher value logs to the local mills and the lower quality logs would become firewood. In the 90′s we purchased our first Wood-Mizer sawmill. We realized that these logs could be milled into lumber and be far more valuable. So we were able to add lumber to the firewood and logs that we already sold. By 2002 Wood-Mizer had asked us to be their representative in California. We agreed. Our hands on experience in the lumber industry puts us in a perfect position to help you select the sawmill that best meets your needs. Jim believes that all wood has some value and he strives to see that none is wasted. He is frequently heard saying, "If God took the time to grow it, we'll take the time to mill it". You may recognize him from the opening of each episode of Animal Planets, "The Redwood Kings" where he is running the dozer, as well as throughout several other episodes of season one of, "The Redwood Kings". Jim passed his craft on to both of his sons Cody and Jason Evans who can also be seen on the Redwood Kings. Although they are now pursuing other careers, (Jason in Real Estate, and Cody operating Far West Construction) they were both instrumental in bringing Far West to where it is today, and do end up partnering with Far West Forest as different aspects of our respective businesses cross.
Jennifer Alger
Jennifer has worked alongside her father and brothers for most of her life and for the past 14 plus years has been dedicated to the success of the Wood-Mizer and lumber marketing aspect of the business. She helps people find the Wood-Mizer sawmill and blade that is best suited for their needs, and provides parts and service support. She actively promotes California and other west coast hardwoods, and under-utilized species of urban logs for lumber. She has a goal of helping to develop a strong commercial market for lumber milled by small owner operator sawmills, especially in the realm of urban, reclaimed, and salvaged materials. Working with local urban sawyers, she helps them to market their wood and assists them is selling their product on consignment allowing them to spend more time doing what they do best; – sawing lumber. She is very passionate about the urban wood movement and is a proponent of a market driven solution as opposed to legislative action to handle our urban forests and reduce the amount of material going to landfills.
Jennifer is a founding member and director of the non-profit network: Urban, Salvaged, & Reclaimed Woods Inc. that has the following goal:
To establish a coalition of like-minded companies, individuals, or government agencies who have networked together for the purpose of tree rescue and finding the highest value of the tree after its' natural life has come to an end. Establishing Urban, Salvaged, & Reclaimed Wood as a national brand and go-to-product for households across America thereby reducing our overall carbon footprint by reducing greenhouse gasses and utilizing both the urban, retired orchard, and the drought induced forest salvage trees.  The common denominator being that these trees were not harvested for their timber value.

If you would like to know more about this network and how you can help, please contact us.
View Jennifer's LinkedIn Profile »