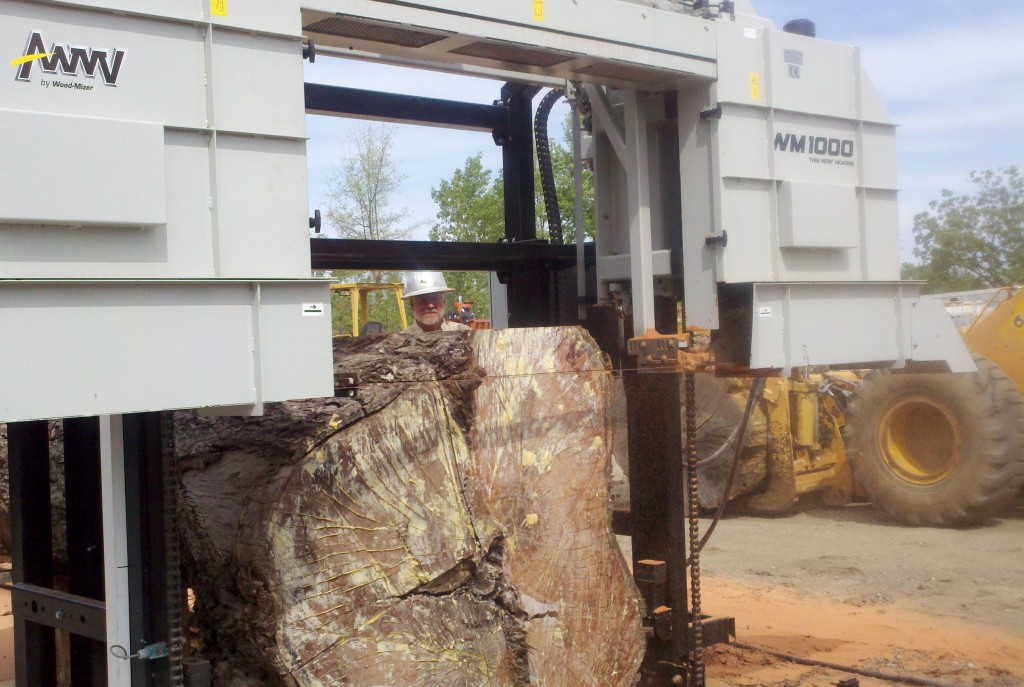 We can custom cut your logs, or resaw your lumber to your specifications on one of our two saws;
Wood-Mizer WM1000
One Hour Minimum Charge on Either Saw
Specs:
67″ diameter log 69″ throat capacity. The thin kerf blade will save your valuable logs from the waste that is incurred when you slab with a chainsaw. We can cut live edge slabs up to 69″ wide, and can split a 67″ log right down the center.
$250/hr. If you are a current Wood-Mizer owner, we will offer you a $10.00 per hour discount on this saw. If you request a carbide blade for your sawing or resawing, there is a $200 per Carbide blade used charge.
Wood-Mizer LT40 Super Hydraulic with 24′ extension
One Hour Minimum Charge on Either Saw
Specs:
36″ diameter log with 28″ wide throat capacity. We can saw logs up to 45′ long.
$150/hr. (the price goes up for anything over 20′ long)
If you are not able to bring your logs in to our facility, contact us and we will be happy to refer you to Wood-Mizer owners in your area who can travel to you for onsite milling.
Hardware Blade Clause
There is a $30 hardware clause; meaning if we hit metal/hardware while cutting your logs there is an additional $30 charge per incident on the LT40. And a $70 hardware clause if we hit metal with the WM1000 blade. We do recommend that you use a metal detector.
With this rate, it includes a blade for up to 2 hours of cutting time per hour charged on the LT40 mill and up to 1 hour of cutting on the WM1000 mill. If a blade dulls before the allotted time is up but was not damaged then a sharpening fee will be charged at the rate of $8 per blade dulled prematurely on the LT40 and $30 sharpening charge for blades dulled prematurely on the WM1000.
If we are trimming your logs to fit on the mill and hit metal with our chainsaw, then a chain fee may apply at the current rate of chain per length damaged. Trim rate and log handling time will be the same as the rate of milling on the respective sawmill.
Saw time for either sawmill includes the sawyer and the mill. Additional persons to off bear may incur a $25 per man hour fee. Please speak to your sawyer about this.