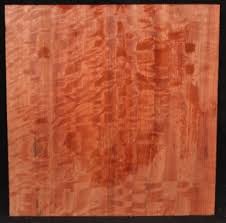 Australian Blue or Red Gum Eucalyptus:
Australian Blue Gum; Eucalyptus Globulus:
Eucalyptus, Tasmanian Blue Gum
Eucalyptus Robusta: 
Red Gum Eucalyptus, Eucalyptus
Originally from Australia this tree has been growing in California so long now that we couldn't imagine our state without it. This fast growing tree has been frequently planted for erosion control and windbreaks and now grows in abundance. Commonly used in flooring and marketed as "Tasmanian oak", as its properties are similar to oak. Eucalyptus can produce straight grain to quilt or basket weave or burl.