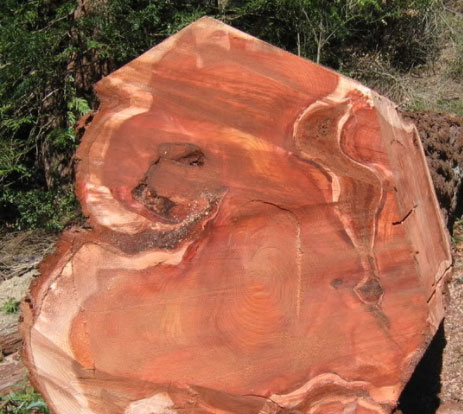 Sequoia Simbervirens ; common name coastal redwood
Both Coastal and Giant Sequoia Old growth redwood are extremely rot and decay resistant.  Old growth material is more weather, bug, and rot resistant than second and third growth material.   Both are very stable with little shrinkage or seasonal movement, and can be used interchangeably. It is a light weight softwood with good weight to strength ratio.  Because of its weather resistance it is commonly used for decks and outdoor furniture.  It can also be used for veneer, construction lumber, posts, beams, turnings, and in musical instruments.  It can range from straight grain, to curly, wavy, or burl.  The heartwood on redwood can be a deep reddish brown, and can be a deep purple-ish red on the Giant Sequoia.
The Giant Sequoia Redwood we carry is from windfalls, (trees that came down in a storm) and most of the Coastal Redwood that we carry is "urban lumber", these are yard, city or park trees that needed to be removed.