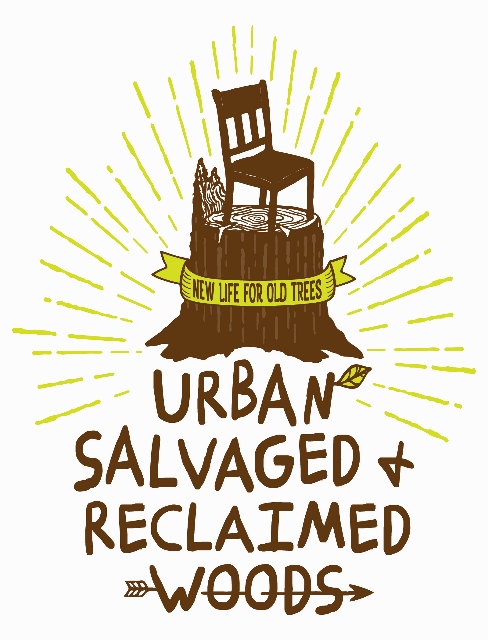 We wanted to let you know about a new non-profit network for urban lumber, reclaimed lumber, and salvaged lumber called Urban, Salvaged, & Reclaimed Woods Inc.
There are many companies specializing in urban lumber, salvaged lumber, reclaimed lumber across the country from tree service companies, to sawmills, furniture makers, and more.  And yet every day we meet someone who just had a tree removed who had no idea there were options for it other than cutting into short lengths for firewood,  being chipped, or going to a landfill.  Every day we meet someone who just purchased wood or wood products who had no idea that there were options to purchase wood that was rescued.
We know we need to do a better job of educating the public;  from the homeowner having a tree removed, to fellow tree removal companies, to the end users of wood products, (everyone!) that these "anyways" woods exist.  This wood is from trees that came down in storms, died due to drought or other causes, needed removed because they had become a hazard in a park or other urban setting, or had retired from producing nuts and fruits and were removed to produce better crops.   Essentially the common denominator of Urban, Salvaged, and Reclaimed woods is that they were not harvested for their timber value.
What can you do to help?
When you need a tree removed from your property select a tree service or arborist who works closely with a sawmill owner to ensure that your trees are put to their highest use. Please keep in mind that few urban trees have a value that exceeds the cost of removal  and processing, so it is unlikely that you will be paid for your trees.   But there are positive reasons other than economics to salvage your trees, including the environment, tribute to the tree at the hands of a craftsman, rich backstory of the future antiques that are made from them, etc.
Replant the right tree in the right place.
Select wood products for your future projects that are Urban, Salvaged, and Reclaimed. If you don't know where to find these, ask us, we can help.
Purchase finished wood products that are made from Urban, Salvaged, and Reclaimed woods. We all use wood products in our lives every day.  The next time you have opportunity to buy some, check first to see if it is available in urban lumber, salvaged lumber, or reclaimed lumber.  You can also look to replace your plastics and other products with this natural renewable environmentally- friendly
To find out more about this non-profit as it unfolds, follow this link and sign up for the email updates :

http://urbansalvagedwoods.com/